Rennes (35000)

Informations Pratiques
Le Bon Accueil
Exposition
29.09.17 → 29.10.17
Graham Dunning, 
Museum of Peripheral Collections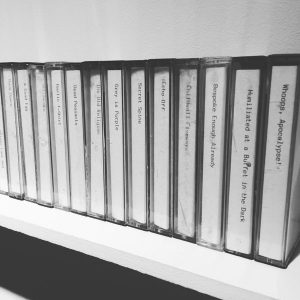 Twenty Nine Of The Best Recordings, Graham Dunning
L'exposition "Museum of Peripheral Collections" de l'artiste anglais Graham Dunning explore les liens entre archives personnelles, musées amateurs, accumulation compulsive  d'objets  de consommation de masses et collections de disques. Une exposition qui célèbre et érige la collection au rang d'acte créatif.
A l'occasion du vernissage de l'exposition, Graham Dunning donnera sa performance jubilatoire et ingénieuse  "Mechanical Techno", tenant autant d'un Dj set Techno que du "Mecanium" de Pierre et  du Turntabulism de Christian Marclay.
INFORMATIONS SUPPLÉMENTAIRES
Museum of Peripheral Collections
exposition au Bon Accueil du 29 sept au 29 oct 2017
Ouvert du jeudi au samedi de 14h00 à 18h00 / Le dimanche de 15h00 à 18h00
entrée libre et gratuite
Site de l'artiste : https://grahamdunning.com/
Vernissage le 28.09.17 à à partir de 18h30

ARCHIVE DES ÉVÈNEMENTS

INFORMATIONS PRATIQUES